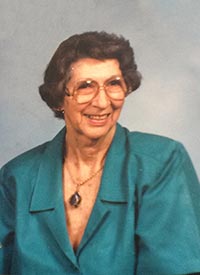 Alexa R. Good may not have been a superstar to some, but to those who knew her, she was one of Rock Hill's leading ladies.
Born in Ebenezer, a small community outside Rock Hill, South Carolina, Alexa was orphanced at the young age of 6 and was raised by two of her aunts. She was married to her beloved "B," Banks H. Good, for 65 years. She is the mother of 3, grandmother of 7, and the great-grandmother of 14. Her Lord and her family came first in her life.
Alexa graduated from Winthrop College in 1933, taught business and later assisted her husband in many of his business endeavors. She was a woman of faith, active in her church, a member of the Board of Directors of Guardian Fidelity Mortgage, Inc serving as Board Secretary. She swam daily at the YMCA, was an avid worker of crossword puzzles, and enjoyed playing bridge with her friends.
Six months prior to her death, she learned that she had Amyotrophic Lateral Sclerosis (ALS) or Lou Gehrig's Disease. She died at home from complications of ALS.